Uncle Sam Likes People Who Do Their Own Taxes.
Way Way Wrong
During the month of February, 2002, Fox Tax had to suspend processing electronically filed returns which were self-prepared. At the time, over 97% were done wrong. Please keep in mind that when using our e-filing service, we simply send what you have prepared. Although we would like to explain your problems, time does not permit that option. Our main focus is to prepare returns for our paying customers.
E-filing self-prepared return(s) should be compared to mailing a return. Once it is mailed it is gone. Also, you probably don't ask the mailman how to correct problems on your return.
Small businesses, corporstion, partnerships, and trusts help line for the IRS is: 1-800-829-4933.
Keep In Mind, Computers Only Know What You Tell Them
FREE FILE
through the IRS, is:
Fast...
Secure...
with Quick Refunds....
BUT
you more than likely will
not receive all your credits
and...
Pay To Much!

Free Offer: Fox Tax will review your self-prepared return(s) for errors or mistakes at no charge. See the bottom of the "Resources" page.

Advice
Fox Tax does not give tax advice over the phone for tax questions and online filing. The IRS and various STATE web sites should be you source for all tax questions if Fox Tax does not prepare your return.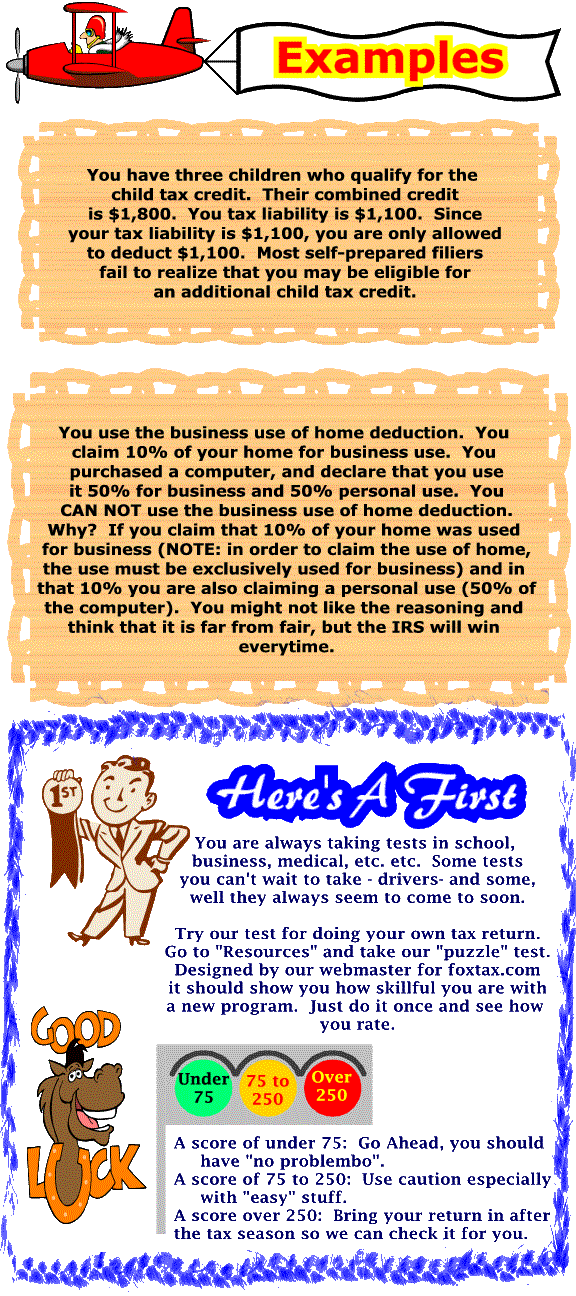 How Well Do You Know Your Computer ?
To view the most common mistakes made on returns, just click on the "Common Mistakes / FAQ" page.