New Hope....
Is Going Knocking
Members of the New Hope congregation will be visiting Thailand during late March, early April, 2003. Their purpose will be to establish a mission church in northern Thailand.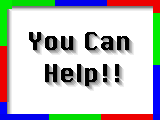 NEEDED
Clothing for adults and children. Adult sizes should be medium and small.
To make a donation or arrange for pickup please use the "Contact" page.
Remember, all donations are tax deductable.