New Hope Lutheran Church is a member of the Lutheran Church-Missouri Synod.
We thank you for your interest, prayers, and support. May God bless you and keep you!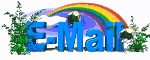 Click the envelope below to e-mail a fried about this site.
Copyright laws apply to several photos on this website whose image(s) may not be downloaded, printed, or used on another web page or for commercial, private, or non-profit purposes. Please e-mail with any questions or requests.
NewHopeWater.com does not support banner ads on its website, however, banner ads may appear on links to other websites.
Bookmark this page for future reference.