What Would You Like to Do Next?
Remain at this site. Take notes, get ideas, save money. Just click on your page(s) of interest on the top of this page, and away you go.
Note: To view the entire page of most sections, you will need to use the right scroll bar on the right. The bottom scroll bar is only needed on a couple of sections.
Ready to send data to Fox Tax?
Ready to go to SecureFoxTax.com and input your information for Fox Tax to prepare your return. If you forget something or need more time, no problem, you may logout and return to SecureFoxTax.com as many times as you wish to finish your "work". All transmissions to and from this site are secure. Remember to write down your login password. SecureFoxTax.com was designed for military and out of state clients. Please remember that we will need a copy of your W-2(s), 1099R(s), etc. prior to filing. If mailing please mail only 1 copy.
Remember, anything FREE is worth saving up for.
WRONG COUNTER
Number of people who do their own taxes (with or without software) and think they have done them correct, when in fact they have done them wrong. It can be, however, considered patriotic to considered to the national debt.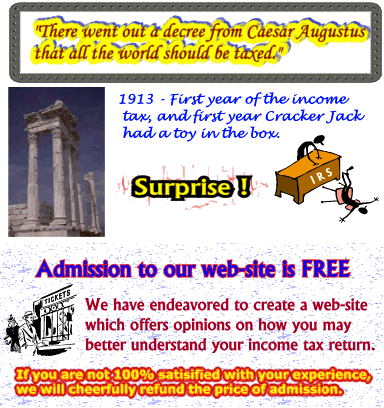 CHASING RETIREMENT
Saving for that "retirement carrot" seems to get easier and easier. Congress wants you to really invest for your retirement. Could it be they know something about Social Security they don't want to discuss? Do you think you will get the carrot?
OUCH !!!!
Did you know we stopped offering quick refunds around 1993? We did so because our clients would have to pay approx. 400% to 700% interest for the service. Today the interest rates are lower, however, there usually are large fees. If you are paying for a quick refund ask how much interest you are paying. By law you must be furnished this information.
Did you also know that the IRS sends your refund at the same time regardless if it is a quick refund or not. Why you might ask do you get it quicker? It is actually simple. Whoever is offering you this service is establishing a bank account in your name. You are then given a loan. When your refund is deposited into your new bank account the loan is paid. All this and high interest just to receive your refund a few days quicker. If you owe someone (landlord) money it is more economical to ask the person to wait a few days more. You could even offer to pay them $25 or $50 and still come out ahead.
Come On Down
Appointments are not necessary for Fox Tax to prepare your return. Just bring all your information (W-2's, 1099 Misc., 1099 R's, Interest Statements, Stock Info, Dependent Care Info, Rent Paid, Etc.) into our office and complete an information sheet. Feel free to visit our "Info Center" at www.foxtax.com and print out the "Client Organizer" for an information sheet. We will then call when your return(s) are completed or if additional information is required.
"A government big enough to give you everything is big enough to take it all away" Barry Goldwater